About Us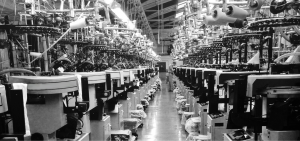 We have been providing licensed character and non-licensed socks to many a bare foot since September '96, supplying to retailers across the UK, infinity and beyond!
The company was founded in 1996 by brothers Tim and Martin Lowe, named in tribute to their late father, whose sock career spanned more than half a century and rose to managing director at manufacturer Samuel Eden.
Combining Tim's technical expertise, with Martin's in depth knowledge of customer markets and the licensing industry has seen the company grow its reputation to be the leaders in licensed character socks. The company now enters its third generation with the additions of Tim's daughter Kelly on the design team, and Martin's son, Ben, on the sales team. Roy Lowe seeks to explore further markets in the outdoor industry with the launch of technical sock brand SockMine, and into men's high end fashion with Roy's Boys. Products for both of these brands are all proudly made at our factory in Nottinghamshire, Great Britain.
Our Heritage
Every industry needs people with that deep, vast pool of experience which comes from absorbing evolving technology and changing customer needs over a working lifetime. Some such doyens retire and die unsung. Others achieve, often without seeking it, a measure of fame, fortune and the unstinted affection and respect of colleagues, competitors
and suppliers.
No-one fitted more readily into this latter category than Roy Lowe. Roy was managing director of Samuel Eden & Sons, Sutton in Ashfield, Nottingham, the well known UK sock manufacturer where he started work – not even as a yarn boy but "general dogsbody" as he described it – 51 years prior to his death.
At the time of being appointed Managing Director in the late 1950s, Samuel Eden had a turnover of around £53,000 and employed 26 people. By 1993, this had grown to
£16,000,000 with 400 employees. This is perhaps the greatest tribute to Roy Lowe's careful but entrepreneurial stewardship. In 1996, Roy Lowe & Sons Ltd was fittingly founded in his
name by his two sons: Tim and Martin. Building upon their Father's half a century of experience, they grew the business concentrating mainly on licensed character socks.
Combining Tim's technical expertise in the production department with Martin's in depth knowledge of customer markets and the licensing industry ensured Roy Lowe &
Sons grew to employing around 160 people by the turn of the millennium.
Unfortunately in 2006, like many other UK manufacturing plants, production was transferred overseas where it remained until 2012 when Ben, Martin's son, joined the
business. Adapting to a changing market, the decision was made to take the years of technical experience of the brothers, and venture into new markets manufacturing high performance technical socks, and high end men's fashion socks under the brands SockMine and Roy's Boys respectively.